About Coffee Plant
We specialise in pure arabica coffees which are both organic and Fairtrade. We supply retail and wholesale. Coffee Plant has a busy coffee shop and an artisan roastery.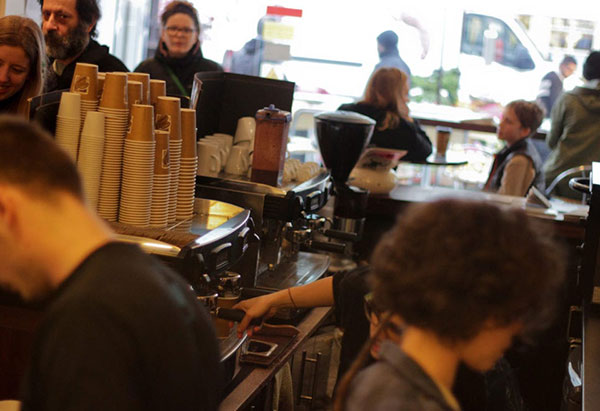 WHAT WE DO
Our coffee shop is located in the heart of London's Portobello Road market and is open 7 days a week. We also have a considerable wholesale and mail order business. We roast in our factory a couple of miles away in Wembley and rush the coffee down to the shop twice weekly. We send coffee all over the UK and to nearby European countries. You can order online, or by phone. Wholesale customers: you can order on the phone or through the website where we can pre-set prices based on your turnover.
OUR HISTORY
In 1985, journalist Ian Henshall started roasting coffee literally on the street corner in Portobello Road, London, as a way of financing his magazine Outlook, which was launched in 1987. The Evening Standard ran a feature on the combined operation. The coffee took off somewhat more than the publishing. With a young family to take care of, Ian dropped Outlook but with support from New Internationalist, The Big Issue and others, he helped form INK, the umbrella organisation for the UK's alternative press. At its pre-internet peak the INK joint subscription leaflet had a print run of 300,000. In 1997 the business moved to a shop near the street corner. The wholesale business took off after we identified a source of coffee that was both organic, Fairtrade and perfect for espresso. Today we believe we have the largest range of dual certified coffee in the UK.
STARSTRUCK
Then came that Hollywood movie, which most of us took little notice of at the time: Notting Hill. Hardly any of it was shot down here, and our sizeable minority of black people were missing from Notting Hill's Notting Hill. The shop rents started to soar, the tourists flocked and the corporations moved in. In the wake of the stars came Bill and Hillary who dined at the Portobello Gold which sells our coffee, but unfortunately there was a power cut at the time. As has happened before and since, the Clintons had greatness within their grasp but it eluded them.
PHILOSOPHY
Ian Henshall is still to be seen in the shop, but he mainly deals with new wholesale business, web and marketing activity, and suppliers. The philosophy: if your supplies are good the demand will follow. Anything more than minimal marketing puts up your costs and hence your prices. This seems to have worked so far. The famous Electric Cinema opposite our shop, one of the oldest cinemas in the world, reopened in 2002. A massive refurbishment has added a very expensive restaurant and, yuk, a VIP lounge.
EXPANSION
By July 2004 our turnover had grown by around 600% and our payroll from three to ten. The shop moved to its third location in our parade, this time permanent, fully refurbished and custom designed for us and we acquired our first roasting premises. With a new 30kg roaster we moved again in 2013 to a much larger unit in Wembley. We could not have done this without excellent staff and two long serving general managers. Danny Davies left in 2004 and is now involved with one of the many coffee roaster/retailers who have sprung up in London in recent years. After a chaotic interlude Danny was replaced by Claudio Ambruoso who was with us till 2016. Since 2016 the Factory is under the management of Adele Finch who started with us back in 2012 as our packer, She now operates mainly around the office handling customer orders and query`s but she is very much a hands on Manager and does on occasion roast the Coffee Beans and Complete Customer orders.
POLITICS AGAIN
Ian co-authored "9/11 Revealed" published in the UK and the US in August 2005, the first mainstream published book to question the official story that became the pretext for NATO's endless wars of aggression. The US State Department created a special page denouncing the book which had a three page serialisation in the Daily Mail and became a non-fiction best seller. You can still see the Mail's article on the wall at the back of the shop. For several years Ian was a regular guest on radio shows including Talksport Radio and Total Rock.
AUSTERITY
After the 2014 rent review our rent was up by 150% over ten years. To make things worse, there has been massive rent inflation post 2017 when the central banks chose to pump cash into the top loop of the economy (justified the patently false trickle down theory). So life is tough in London if you are not in the millionaire bracket. We aim to pay our staff better than most (perhaps all) of our competitors, and with no shareholders to pay off we still have a competitive edge on pricing and quality from our excellent team of baristas.
ORGANIC AND FAIRTRADE
If the planet is to have a future, we think Fairtrade and organic products are the best way forward. There is extra paperwork but the audit trail is essential to uphold the integrity of both systems. There are many excuses for not being properly certified. Some roasters even claim they visit their suppliers and somehow audit them personally, a next to impossible task. A recent report in the trade press confirmed that even very expensive coffee can be grown on estates using forced labour and massive pesticide inputs. Farmers denounced the industry backed Rainforest Alliance certification system as nothing like tough enough. Organic certification involves spot soil checks for unauthorised pesticides and Fairtrade certification carefully audits producer accounts. Another benefit of Fairtrade is to put a floor under the market, so that in bad years the producers are not at risk of losing everything to creditors. There are still some origins (eg Kenya) which do not offer organic Fairtrade, but most of our coffee is now dual certified. This is welcome to caterers who can appeal to two often different types of customer and get word of mouth promotion. But the main selling point remains the quality of the coffee.
PRAISE FROM THE FAMOUS
Is it intentional? We do not know. While the mainstream media have studiously ignored Ian Henshall's political writings, there has been no shortage of publicity for the shop. Pop star Rita Ora told the Evening Standard that we are her favourite coffee shop. So has TV's "Queen of Shops" Mary Portas. Clarissa Dickson Wright, star of the Two Fat Ladies tv series (sadly deceased in 2014), was a fan from when she worked at Books for Cooks across from our original market pitch. Following a flat out refusal to cover Ian's writings in any way, the New Statesman magazine came up with a glowing restaurant review of Coffee Plant.